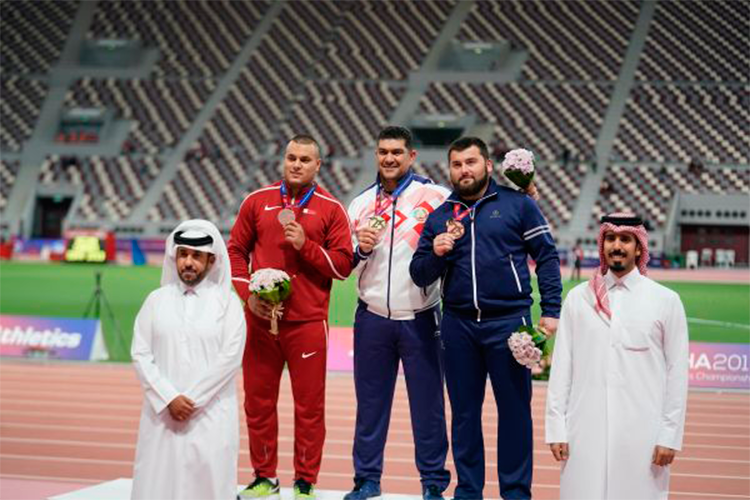 Tajikistan's title-known hummer thrower, Olympic gold medalist Rio-2016, multi-times champion of Asia – Dilshod Nazarov has won the fifth Asian hummer throwing title in Doha, Qatar.

Dilshod Nazarov got the gold medal of Asian Athletics Championship with a throw 76.14 meter in round five. Ashraf Al-Sayfi of Qatar took the second place with a throw 73.76 meter who awarded silver medal. Suhrob Khojayev of Uzbekistan with a result of 72.86 meter owned the third place of the championship.
Dilshod Nazarov (born May 6, 1982) is an elite athlete of Tajikistan at the athletics, hummer throwing sport. He has represented Tajikistan at the Summer Olympic Games in 2004, 2008, 2012, and 2016 there he owned the Olympic gold medal in Rio-2016, which the first Olympic gold medal for Tajikistan since independence.
Dilshod Nazarov attended the World Athletics Championships six times (from 2005 to 2015), but he has been most successful at the regional competitions. He won medals at five consecutive Asian Athletics Championships, and was the hummer throwing champion at the Asian Games in 2006, 2010, 2014, and 2017. Nazarov won his world medal (a silver) in 2010 at the IAAF Continental Cup. His personal best record for the event is 80.71 meters, set in 2013.
The Asian Athletics Championships in Doha reportedly ends with a victory of the athletics team of Bairain. They snatched 22 medals (7 golds, 11 silvers, and 4 bronzes). The athletics team of Tajikistan with 1 gold medal ranked 13 between 20 countries of Asia.